One Day
, so once again, I am late to the party. But hopefully that means I don't have to bring the gift of exposition! Well, ok, for those of you who have been living in the land of Classics or non-fiction or whatever, here is a brief idea of what the book is about: On the eve of graduating from university, Dexter & Emma spend one night together and kick off a friendship that, through ups and downs, will last them a lifetime.
One Day
follows Dex & Em on the anniversary of their meeting each and every year, and in so doing, readers spend both something close to 20 years and just 20 days with the duo. In many ways,
One Day
appears to be your conventional chick lit novel, the unique premise not withstanding. I'm not sure I would have been drawn to it when I first saw it over in the ARC shelves at BookPage if not for the premise, so while it may seem gimmicky, you've got to admire Nicholls for doing something different to set his book apart. I don't read tons of chick lit anymore, but so much of it is formulaic, that in many ways I feel like the overwhelming popularity of
One Day
can be attributed to it being a breath of fresh air. That said, it took a trip to Naples, Florida where I knew I'd be lazing by the pool and on the beach for many hours to finally decide that I should see what this sensation was all about. Most of the reviews I've read about
One Day
have either been effusively positive, or sour and negative. I think I fall somewhere in the middle. For the bulk of the novel, I read on, not because I was all that interested in what was going to happen to the characters or because I couldn't not keep reading, but simply because it was easier to continue on than it would have been to pick up a new book and start fresh. I wasn't really very impressed and certainly couldn't figure out why so many people were in love with this book. I think for me, the biggest problem I had is that I didn't really connect with either of the main characters, and I felt like I vacillated between loathing one and then the other. If Emma was supposed to be endearing early on because she was bookish and unaware of her own attractiveness, Nicholls completely backfired since I just found her an insufferable prig. Her utter lack of self-confidence and self-deprecating talk wasn't charming or cool, it was annoying and I have no idea why Dexter would want to hang out with her. Of course, Dexter himself is no prince and spends much of the novel as an alcoholic douchebag, so while I admit that it was never entirely clear to me why they were friends, I suppose it was better that they spent their time together rather than inflicting their miserableness on other people. Another thing that I think made the book harder to get into was its structure. While the "one day" idea is an interesting concept in theory, it is a device that lends itself to an awful lot of telling rather than showing. Every chapter would involve so much exposition because the entire past year would need to be explained, and at times it could just feel rather clunky. Still, given this constraint, I would say that I felt that Nicholls was successful in making his characters grow and change over the years, and I did really feel like I had spent a lot of time with Em & Dex, gradually watching them transform, sometimes for the better sometimes not. It's no small feat for a book that just focuses on one day at a time to pull this off, so kudos to Nicholls for that. Although I will say that it kind of seems ridiculous that so many momentous things would happen on the exact same date every year, but this is fiction, so some leeway must be allowed, I suppose. I guess it wouldn't be all that interesting to read about Emma staying in bed and eating take-away Chinese and waxing her legs, even if that would have been far more realistic. As I said earlier, I spent the majority of the novel not exactly rooting for (or even really liking) the characters, and yet I admit that near the end, when this tragic event takes place that I totally knew was going to happen because I had read enough other reviews to suspect that things did not end all hunky-dory, I still was really affected by it. Such that even though I was sitting on a plane, wedged between two rather bulky gentlemen, I started to tear up and it took an awful lot of willpower not to start weeping amongst strangers. I do not necessarily mean that the writing in this section was fantastic or that I suddenly came to care deeply for Em & Dex, as I fully admit that I may have been over-empathizing with them, thinking about how I would feel if I were in their situation, because I'm a selfish bitch that way. I can't say that ever understood that bond between those two specifically, but I guess I did respond to it in some way in the end, so clearly Nicholls was able to touch a nerve. I do think that the even it question was kind of overly maudlin and something you would expect in a movie more than you would a book, but I guess now that the book is being made into a film, as we all knew it would, everything makes sense in the world. So, in the end, much about this book was predictable and unremarkable, but it was still a nice way to change things up, and even though I will not chalk this up as one of the great love stories of our times, I think it was perfectly well-suited for reading at the beach or by the pool (I don't know if I would have the patience for it otherwise). Thanks to
Nadia over at A Bookish Way of Life
, who sent me the copy I read. I have to say, though, that while I did watch and enjoy the last film adaptation of a Nicholls novel (Starter for Ten), I have no real desire to see
One Day
on the big screen. Not least because I don't think I could make it through nearly two hours of Anne Hathaway's ATROCIOUS English accent. Wasn't Emma from Northern England? More importantly, wasn't Emma English and not whatever the hell Hathaway is doing in the trailer? Sooooo painful. Why couldn't they have just cast an English actress? Don't believe me? What the trailer in all its putrid accent glory right here and now! Don't say I didn't warn you!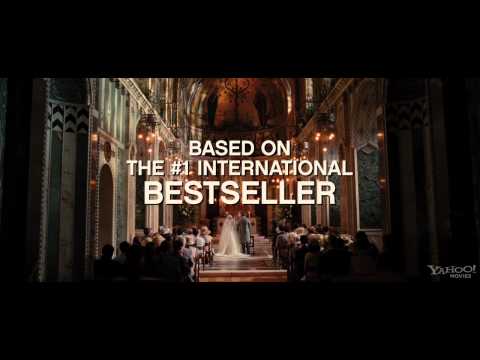 Rating: 3.5 out of 5
By this point everyone on the planet has read