Today Tony turns... another year older! (I will leave it to him to share the not at all old number that he is turning, should he care to!)  To celebrate, we have orchestrated a weekend of extravagant proportions.  We started celebrating early last night by heading out to see a double header of
Toy Story 1 & 2
in 3D at the Theater that Time Forgot (seriously, we were the ONLY people there... I get that it was a Thursday, but come on!).  We'd both seen the two movies before, but never in 3D, and having the theater all to ourselves meant we could do running commentary, which was actually a lot of fun.  We also got to see the trailer for Toy Story 3, and, well... I hope it is better than what was shown!  In my mind,
Toy Story 2
is a lovely way to cap off the franchise and completes the full story arc that the movies aim to tell, but I will try to have faith in Pixar and assume they know what they're doing.  But here's the thing: remember in
Toy Story 2
when Jessie is sharing her story (via the montage accompanied by Sarah McLaughlan warbling
When Somebody Loved Me
) about her time with her previous owner Emily and it was SO SAD? (As in, every time I see that scene, I possibly tear up!)  And the whole point there is that kids grow up and leave for college and their old toys get left behind and given away and that is sad?  But then Jessie gets saved because Andy always can do with new toys, and then we are happy!  But now in Toy Story 3, Andy is leaving for college and so the toys are given away to a day care!  Is this the story we really want to see?  OK, and even if that premise isn't somehow sad (I guess the upside is the toys are now making other children happy...), the jokes in the trailer are just not very funny, and that is a shame because generally speaking the
Toy Story
flicks are both heartwarming AND amusing.  See for yourself: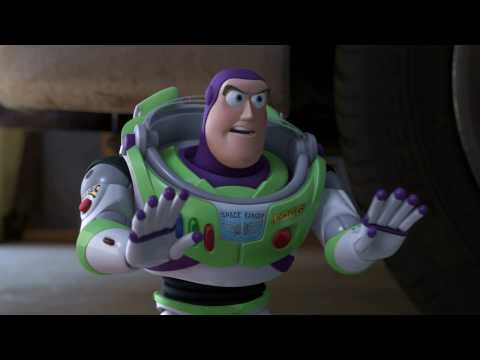 And just to counteract that, let's watch the
When Somebody Loved Me
clip (which thankfully does not feature Randy Newman crooning):

Anyway, the point of today's entry is not to discuss the intricacies of Pixar and their films, so I will just say that despite my whingeing we will almost certainly see
Toy Story 3
in theaters, so
PLEASE DON'T LET US DOWN, PIXAR
!!! Ahem.  Moving on, yesterday we also celebrated Tony's birthday a bit prematurely with me giving him his birthday gift.  The two of us are notoriously bad at keeping secrets from one another, and rarely manage to actually abstain from giving presents until the actual birthday.  I am also big into surprises, so this year I convinced Tony that I could not think of anything to get him and everything I had been thinking of fell through (which is only a half lie, I think, as I did have a lot of ideas and many of them DID fall through), and so we had agreed that we would just go out for dinner to celebrate.  But, tricky girl that I am, I went out on an adventure while Tony was out of town earlier this week and did in fact procure him a gift.  I brought said gift home, and wanted to wrap it, but could not find our wrapping paper anywhere!  Clearly Tony had hidden it somewhere while tidying up at some point, and given the circumstances, I could not call him and ask its whereabouts!  I didn't want to go and buy new wrapping paper, so what did I do?  I totally used a glossy flyer that had come to our apartment, which wound up being the perfect size.  I admit, the cheesiness of this totally cracks me up, and so when I did give Tony his gift, I laughed the whole time, especially when I could see how confused he was in trying to figure out what I had used to wrap the gift.  As for the gift itself, I got Tony
Uncharted 2: Among Thieves
for PS3, the second game in the Drake's Fortune series.  I will also point out that, Tony has wanted this game quite a lot and it has been RIDICULOUSLY HARD persuading him not to buy it while also remaining casual enough to not allow him to suspect that maybe someone would be getting it for him as a gift.  Seriously, every time Tony wants something, he almost immediately goes out to buy it, even if it is a week before his birthday or the day before Christmas.  He literally does not even consider that one should not go out on crazy shopping sprees for whimsical items in near proximity to occasions that are understood to entail gifts.  I love the man, but it is ANNOYING and it is only due to my sheer inventiveness and wiliness that he gets any gifts at all! OK, so Tony was very excited about his game, so he played it a little bit last night, and I'm sure will play it a lot more this weekend as well.  In addition, we also have the following things planned:
Tonight: Fancy dinner at Zola.  We have never been before because we were always of the opinion that they serve cajun/creole food, which neither of us like.  Bonus: it is spitting distance from our apartment (but hopefully there will be no spitting involved...)!
Tomorrow: Seeing Jim Gaffigan at the Ryman.
Sunday: Possible puppy playdate (always fun) and seeing a double feature of Cloudy with a Chance of Meatballs and Where the Wild Things Are at the drive-in.
Throughout it all, I'm sure we will do some reading, play some videogames, and catch up on tv shows that we have fallen woefully behind on (namely: all of the ones that we follow).  All in all, a fun weekend is in store!  Good luck to all of you doing the readathon (I will try to stop by and cheer y'all on!), and I hope everyone has restive and relaxing weekends!